Politician, Human Rights defender, Professor…Monica McWilliams has filled many roles and fulfilled many duties throughout her impressively rich and long career.
In McWilliams's own words, her involvement in politics started in the mid-1970s: as the UK government was about to neglect Northern Irish women's inclusion in the new Sex Discrimination Act, the Londonderry-born started campaigning. Women did not hold public posts at the time, but they were active in grass-roots campaigns, a training ground which McWilliams used to change the norm. In 1996, she thus became a leading figure as the co-founder of the Northern Irish Women Coalition, a feminist-tinged political party under whose colours McWilliams became a member of the Legislative Assembly in Northern Ireland.
4
McWilliams's involvement in Northern Irish politics has been one of the cornerstones of her political career: following The Good Friday Agreement, she was the Chairperson of the Human Rights Sub-Committee until 2003, as well as the full-time Chief Commissioner of the Northern Ireland Human Rights Commission from 2005 till 2011. As a result, she was one of nine politicians involved in the Northern Ireland peace process who co-received the John F. Kennedy Library Profile in Courage Award.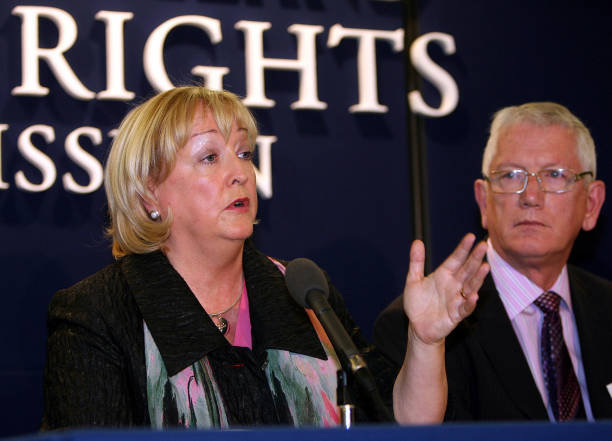 4
Intrinsically linked is McWilliams's role as an advocate for women and their rights: at a time when charities such as Women's Aid did not exist, the apprentice politician's campaigning for women's rights extended to the private sphere, advocating for the support of survivors of rape and domestic abuse. Two government-published research studies on this topic would follow in 1993 and 1996 with McWilliams as co-author. In 2011, she became a Professor of Women's Studies at the University of Ulster and joined as researcher the Transitional Justice Institute, focused on gender, transition, human rights and conflict.
The multiple articles she wrote on the impact of political conflicts (including with INCORE, a joint Ulster University and United Nations University research centre for the study of conflict) poverty and women's rights took her beyond the confines of the Ireland and she has been deeply involved with women's groups across the globe, including women peace negotiators in Syria and grassroots peace activists in Colombia.
"When women see what other women with similar struggles have done, they see what is also possible for themselves. Women should be able to take their knowledge and skills to the mainstream" states McWilliams.

4
Her long-standing and cross-nations career speaking up for the rights of individuals is an empowering and galvanizing example.
The Hall of Fame Award of WOTYA18 is sponsored by Monart.